1″ SEMI – RIGID HOSE REEL, AXIAL WATER SUPPLY
FIXED HOSE REEL SYSTEM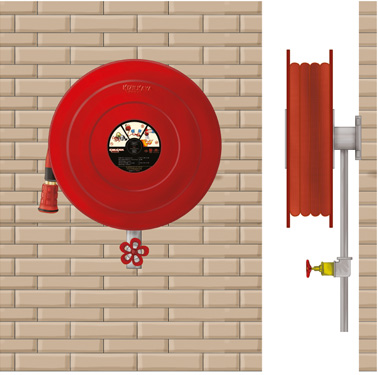 The hose reel system without housing is preferred in narrow places like shafts.
The fire hose reel is painted red with electrostatic powder paint 200°C in the colour RAL 3003.
This hose reel system is conforming the EN 671-1. standards
According your architectural preferences, hose reels can be made of stainless steel.
CODE
MOUNTING STYLE
VALVE TYPE
HOSE DIAMETER & LENGTH
W
mm
H
mm
D
mm
SE1-102.1
Fixed Type
1″ Slide Valve
1″ – 20 m
550
670
200
SE1-102.2
Fixed Type
1″ Slide Valve
1″ – 25 m
550
670
200
SE1-102.3
Fixed Type
1″ Slide Valve
1″ – 30 m
550
670
200
HOSE REEL
Axial water supply. Water inlet made of rust-resistant material.
1″ Slide valve
Nozzle with 1″ jet / spray / lock setting.
1″ round, semi – rigid hose.
All connections are made with press fitting instead of clamp fitting
Special wall mounting kit included
All hose reels have been tested.