LAY – FLAT HOSE
INSET GLASS DOOR, FIRE EXTINGUISHER SECTION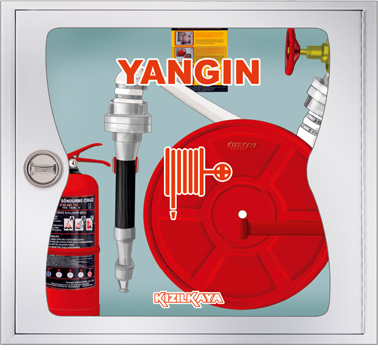 2½" flat type fire hose, 2½" fire valve and 2½" fire lance are optional
All parts are painted with electrostatic powder paint at 200°C, optionally in the colours RAL 9010 white, RAL 3003 red or RAL1013 champagne. Other colours are available to meet specific needs.
This fire cabinet models are in compliance with EN 671-1.
Fire cabinets and their doors can be optionally produced from stainless steel and with decorative cutouts to suit various architectural requirements.
All models can be manufactured with front and rear doors
CODE
MOUNTING STYLE
MODULAR DOOR TYPE
HOSE DIAMETER & LENGTH
TUBE CAPACITY
LIGHTING
W
mm
H
mm
D
mm
W1
mm
H1
mm
SE2-2314.1
Recessed
Inset Glass Door
2″ – 20 m
1 Tube / 6 kg
Optional
750
700
200
710
660
SE2-2314.3
Recessed
Inset Glass Door
2″ – 30 m
1 Tube / 6 kg
Optional
750
700
200
710
660
SE2-2324.1
Surface
Inset Glass Door
2″ – 20 m
1 Tube / 6 kg
Optional
750
700
200
750
700
SE2-2324.3
Surface
Inset Glass Door
2″ – 30 m
1 Tube / 6 kg
Optional
750
700
200
750
700
CABINET HOUSING
Produced from 1.2 mm mild steel (DKP).
Flaps at every corner for fire valve installation
Hose reel can be left or right mounted
Surface mount or recessed mount types obtainable.
HOSE REEL
Reel crank allows hose reel to be opened at an angle of 270°.
2" Fire valve and 2" hose sleeve
2" Fire lance and 2" hose sleeve
2" lat flay fire hose
All connections are made with whipcheck safety cables instead of clamps.
CABINET DOOR
Inset glass door with radial frame, chrome plated handle
4 mm thick tempered smoke glass
Screen printed warning signs are fired at 700°C
After the housing has been mounted on the wall, the doors can be simply attached to the housing with 4 screws.
180 degree opening door with continuous hinges, optionally stainless hinges or invisible hinges obtainable.